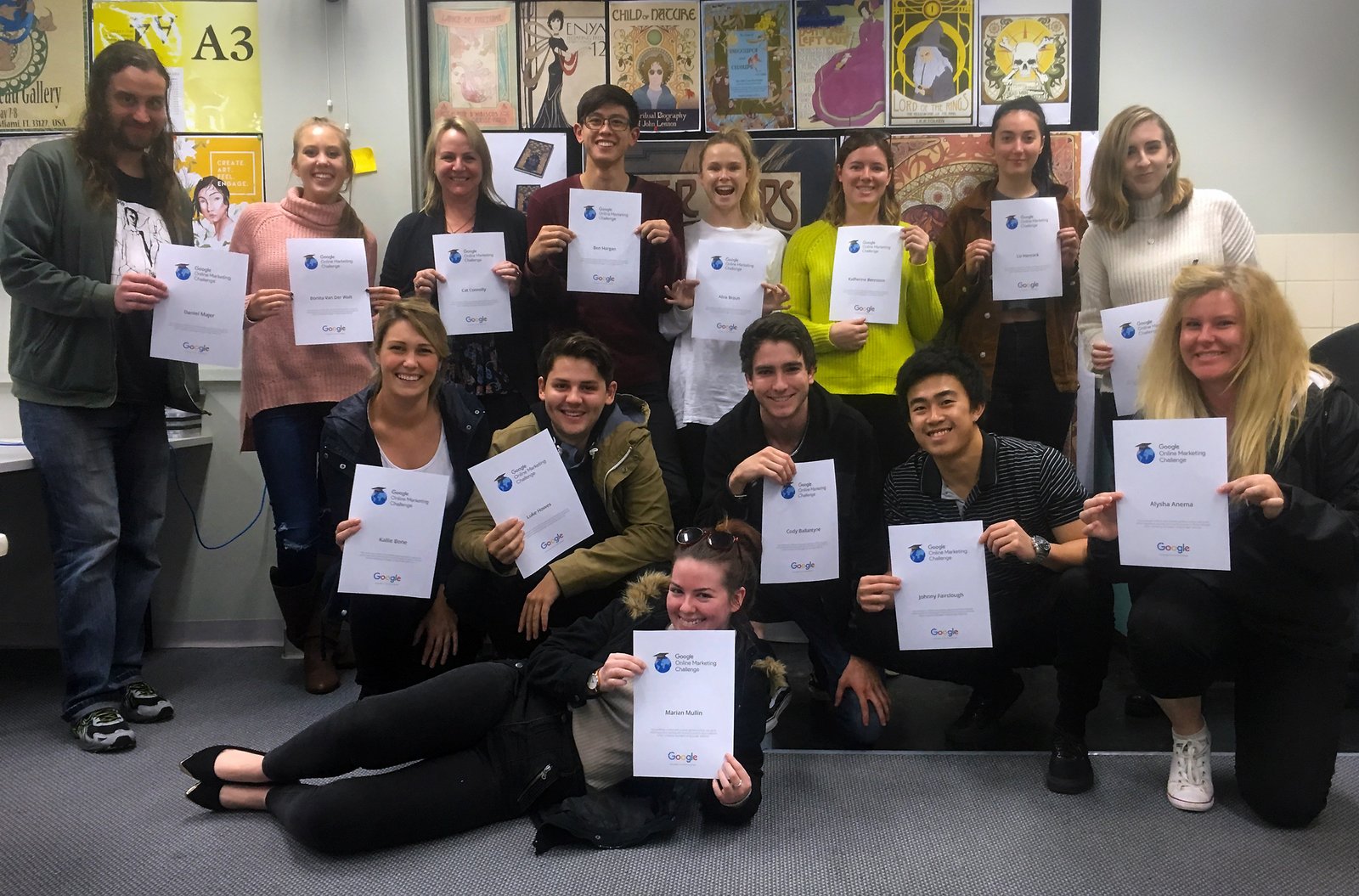 30 May

Student's complete Google Online Marketing Challenge, ex-students talk five years out and new connections with diploma tourism students

Brilliant wrap up to last weeks Google Online Marketing Challenge (GOMC); a speed test live brief with diploma tourism students; an inspiration talk by three of Perth's leading designers from three different eras of design, who explored their inspirations, recounted their creative experiences and shared their passion (Particularly ex-student (2010) five year out Grad: Tim Meakins); and add in a formal introduction by Becky Chilcott to the First Class group about ISTD 2017 and there you have Week 16 in a nutshell. Farewell Semester One, 2017.

Thanks to JP (TAFE Marketing Latest News) for prompting the write up below:
Walking among web giants

North Metropolitan TAFE Graphic Design students have just completed the 2017 Google Online Marketing Challenge

The Google Online Marketing Challenge is a unique opportunity for students to experience and create online marketing campaigns using Google AdWords. Over 110,000 students and professors from almost 100 countries have participated in the past 9 years.

Under the supervision of Graphic Design lecturer Brendan Hibbert, 41 North Metropolitan TAFE Advanced Diploma student were given $250 to develop digital marketing campaigns for real clients.

"These students come with no knowledge of Google Adwords and have only a three weeks window to develop and refine campaigns using real money for real clients", said Brendan. "The system is quite complicated and it takes years of training and professional practices to master it, so this is definitely an immersive experience."

The competition involves mostly universities around the globe, and it is firmly established in marketing curriculum. But North Metropolitan TAFE offers this within the graphic design course.

"This gives students better all-rounder knowledge to stand out in the industry and to operate all aspects of their own businesses", Brendan said. "Students discover the importance of relevance, density of keywords and carefully tracking actual search terms."

Some of the clients represented in 2017 are diverse as Northbridge's Rockface indoor rock climbing, the delicious Honeycake Shop in Fremantle, family owned small business such as Balshaws Florist in Mt Lawley and Terrace Art Framers in Mandurah; and even "Australia's Got Talent" finalist, Fiona Mariah.

"Our students gain exposure to real projects and real clients and also the opportunity to network with some of the biggest names in the industry", said Brendan. "Finalists get to go to Sydney and visit Google's headquarters; Global winners visit the Googleplex in California."

"The businesses also benefit a lot from this project. They are mostly small or not-for profit organisations, so each click is a potential client who can bring them revenue."

Students also have the opportunity to participate in an optional AdWords Certification category of the challenge. By passing the necessary exams, they become AdWords Certified professionals and join the global Google Partners platform.

"We had no idea how Adwords or pay-per-click online advertising worked prior to starting the challenge. Now I have a family friend who owes a small glazing business ask me for advice on how to optimise their Adwords Campaign, maximise click through rates and refine keyword match types", said graphic design student Benjamin Horgan, who worked with a small cafe in Nedlands called the Little Way. "I felt confident I could help based on the experience from the three weeks running the campaign for the Google Challenge."

Students Michael Search, Morgin Edwards and Lorenza Minghetti were the best performing team, winning the biggest number of clicks for their campaign.

"The challenge was a very rich learning experience for us – very exciting and challenging but certainly worth the efforts", Michael said. "We all felt we learned a lot and we are sure we've come a long way since only three weeks ago!"

"Our objective with this project was to learn as much as we could as we believe the skills we have acquired will be very useful in the working environment", said Morgin. "Building a website is not enough – we need to be able to show our clients how they can bring clients to their business."

"We also learned that AdWords offers a cost-efficient way for small to medium businesses to compete with larger companies", completed Lorenza. "Money is not everything; careful optimization of the website will make it possible to compete with big companies without breaking the bank."

Students also enjoyed an insightful and advice laden talk prior to beginning the Google Challenge when Alex Gavalas, from digital marketing company Bonfire, unpacked some valuable Adwords techniques.

"Alex stayed on topic, on time and answered some curly questions in his stride. It was excellent to hear him stress the point about Bonfire's zero outsourcing policy, which was music to the ears of local students who are all looking for local jobs", said Brendan.

Results of the competition will be announced in July and August. Congratulations to all 41 students involved in the project!
Pictured below are the results and both groups receiving their GOMC Participation certificates.