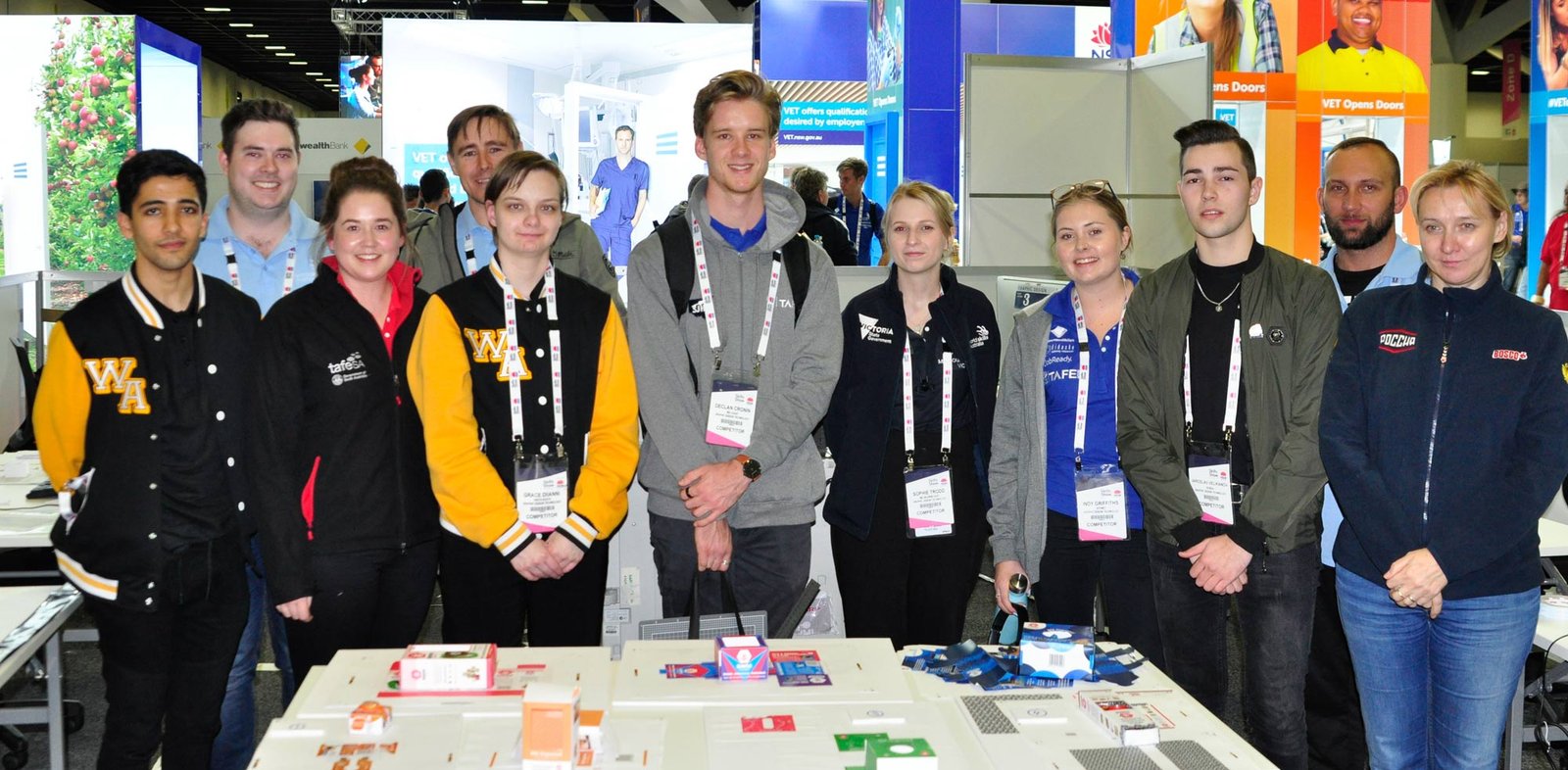 11 Jun

Worldskills National Championship 2018 – The Sydney Skills Show

A fantastic three days of competition featuring six of Australia's finest young graphic design talent and a strong Russian guest competitor has just concluded.
The biennial WorldSkills competition aims to find the best young apprentices, trainees, tradespeople and VET (Vocational Education and Training) graduates in the country by testing them over three days with set tasks, strict judging criteria and a race against the clock.

Some of the national winners will go on to represent Australia in the WorldSkills international championships, or "tradie Olympics", in Kazan, Russia next year.

It was part of careers expo Skills Show Australia, which was held at ICC Sydney, June 2-4, and welcomed tens of thousands of schoolchildren, parents and teachers.
Alongside Sarah Jones, Dale Fisher and Russian Expert, Olga Minaeva (Оля Минаева) I enjoyed watching the efforts of our nations best compete for the title of Australia's BEST GRAPHIC DESIGNER!
A few tips and rushed notes from this competition included:
Never be the first to leave the competition site — Be the last. But don't run out of time. Triple check everything. Even heavy aircraft have a low and slow glide before they land. Don't crash into the last 30 minutes of the day.
Print first, ask questions later. Packaging needs to be mocked up to best analyse it's flaws. Learn how to cut foam core like an expert.
Always aim to use more colour. In the background of your white-space driven layouts; saturate your banners; and learn sympathetic colour combinations rather than guess on the day.
Same with type. Have a few go-to favourite pairing. Classic pairing trumps experimental mis-mash.
Align everything.
Have a bank of existing generic brands or logo marks that allow you to move forward with the other modules. It is a competition, not a chance to pitch like RE:, Interbrand or other fine strategic brand consultancies.
Wear ear plugs.
Make everything bigger.
Get to know everyone. Make friends with your competition. Stay in touch.
For future competitions: Bring your own keyboard & mouse, your own music, ask about font usage, steel rulers and a decent set of blades, Pantone and sketch books double sided tape on a dispenser, extra duct tape and local chocolate treats to share with international experts and interpreters –everyone speaks this language of love!
Thanks for all the advice and tech support Sarah and Dale – We were very much supported by Mitch, Adam and the entire Worldskills Australia team are amazing.
Much love to Russell and Lucy for showing me around the very photogenic City of Sydney and Art Gallery of NSW.
JUDGING TEAM
Brendan Hibbert (Chief Judge)

Dale Fisher

Sarah Jones (Skill Manager & Judge)

Russian Expert – Olga Minaeva (Оля Минаева)

Russian Trainer/Interpreter – Andrey Ermakov (Андрей Ермаков)
COMPETITORS
Taylah O'Brien (SILVER)

Sophie Trodd

Declan Cronin

Anthony Musca (BRONZE)

Grace Diianni

Indy Griffiths (GOLD)

Russian Competitor – Iaroslav Velikanov